Incredible treasures and experiences await you at Heart of the Horse!
Here is just a small taste of the donated items that will be up for bid on April 14: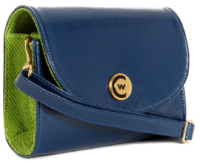 A Seattle Seahawks stadium regulation-sized handbag by Clutch Women. Clutch Women bags are stadium regulation size purses for women who love sports and style, but don't love showing off their purse contents with clear bags. These purses are really cute and made with great materials, which means you can use it outside of the stadium, too. All bags fit the NFL policy (4.5 x 6.5) and can be worn on the shoulder, cross body, or even around the waist! Made in the USA.
Complete List of Donors
7Dragons Acupuncture
All the Best Pet Care
Balanced Horse Veterinary Service
Bear Cho
Big City Hunt
Brittney Stewart Dressage
Candi and Kerry Kintzley
Caroline Callender
Chimpanzee Sanctuary Northwest
Country Square Western Wear
Clutch Women
Debbie Meyer
Denny's Pet World
Equicube
Essential Kneads Skin & Body Clinic
Everett Silvertips
Everything RV
Flywheel Sports
Garage Billiards
The Gift Horse Saddlery
Gina Pankowski Lattis Designs
Guardian Cellars
Heather Andreini/Black Horse Farm
Hyatt Regency, Bellevue
Island Equine Massage
Jackie Liles LMP
Jane Millar
Jet Parrett
Joani Wright
KEXP
Kim Harris Graphites
Kirkland Performance Center
Lachini Vineyards
Lisa Dupree of Mollie Michelle Boutique Salon
Lynda Caughey
Lynnwood Police Department
Mac & Jack's Brewery
Marenakos Rock Center
Mark Lemaster
Matt's Rotisserie & Oyster Lounge
McCall Saddles
Mike & Lisa Haistings
Movement in Balance
Mud Bay Pet Store
Museum of Flight
Northwest Cellars
OOLA Distillery
Pacific Science Center
Pagliacci Pizza
Passport Unlimited
Pepper Bridge/Amavi
Power of Touch for Animals
Puetz Golf
Puzzle Break
Quest Factor
Randee Fox/Blue Heron Moving Arts and Equestrian
Redmond School of Glass
Richard Duncan
River Valley Cheese
Rocking E Feeds
Sadie Pie Designs
Sally Gregg
Seattle Limo
Seattle Mariners
Seattle Mounted Patrol
Seattle Seaplanes
Seattle Storm
Seattle Police Dept Harbor Patrol
Snohomish Co-Op Inc.
Steens Mountain Guest Ranch
Suite Lounge
The Lookout
Three of Cups Winery
Tiffany Lindan
Tiny Digs Portland
Triple Door
Twin Rivers Golf
Valley House Brewing, Duvall
Victoria Barajas, artist
William Church Winery
Wolf Haven
Woodinville Wine Country