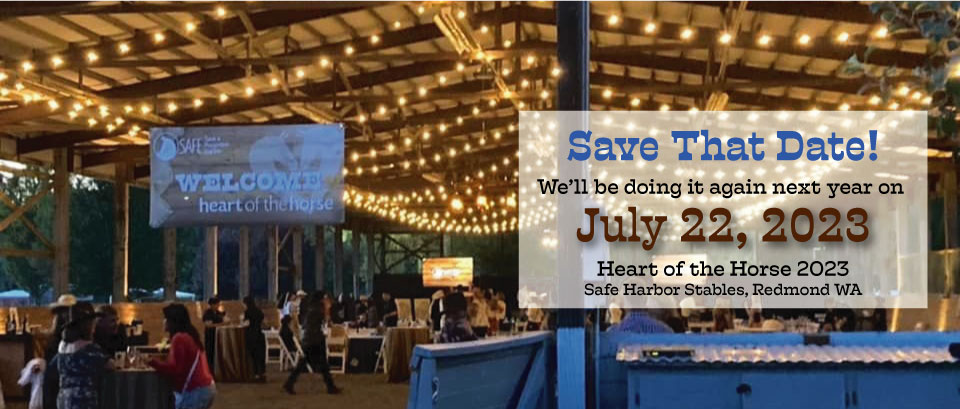 We're glad you asked!
Picture this: It's a surprisingly short hop from the urban Eastside to Safe Harbor Stables in Redmond, but when you drive through the gate you'll feel like you've arrived in a whole new world. The 11-acre farm sparkles before you in the sunshine. You see green pastures, tidy fences and barns, and horses, everywhere you look.
Friendly volunteers direct you and your guests to park, and quickly hand you your bid card and catalog at check-in. Stepping into the expansive covered arena, you're dazzled by the lights draped from the ceiling, wagon wheel chandeliers, and pretty centerpieces on every table. Sparky the Miniature Donkey saunters up to you for an ear scratch and you are offered an ice-cold, spicy margarita or fresh limeade. Friendly and efficient bartenders and waiters in western attire are ready to serve you delicious appetizers and festive cocktails, so belly up to the bar!
To your left, guests in cowboy hats and all sorts of western attire try their hands at roping and pitching horseshoes. To your right, gentle horses stretch their noses out for a pat, while volunteers describe their stories to you. You hear laughter from the photo area as guests pose for pictures on saddled wine barrels or become living "Wanted" posters, and you realize that Heart of the Horse is truly a unique and special event.
From the stage, premier auctioneer Matt Lorch welcomes you to Heart of the Horse…and the evening's "Mane Event" is underway! You find your table, and tuck in to a delicious dinner. You hear stories to make you laugh and cry, see extravagant and luxurious adventures and items up for bid, celebrate honorees, experience the thrill of a Golden Ticket drawing — and through it all, no one forgets about the horses. The horses are the real guests of honor. You've come to celebrate their amazing transformations and make sure that Save a Forgotten Equine is there to help the ones we haven't met yet.
And when the band finally sets down their instruments, and you head out into the warm summer night, the peace and calm you feel all around you comes from the horses, knowing that THEY ARE SAFE. As part of Heart of the Horse — as a guest or a sponsor or a donor or volunteer — you can feel good knowing that you played a part in making that possible.  We – and they – are grateful for your presence.
---
Heart of the Horse 2023
When: Saturday July 22 from 5-10pm
Where: Safe Harbor Stables in Redmond WA
Why: To Benefit the Horses of Save a Forgotten Equine
How: Silent Auction • Live Auction • Dinner • Dancing • Horses
Tickets go on sale soon!

Auction Items Donated by:
2 Your Door Mobile Spa • 3Rein Media • Erin & Rob Aleman • All Seasons Vacation Rentals • Heather Andreini • The Archer Hotel Redmond • Christy Avery • Elizabeth Avery • Megan Ayrault • Bainbridge Organic Distillers • Bellevue Rare Coins • Beneath the Streets • Stephanie Benson Designs • Bickersons Brewhouse • Big River Grill  • The Simpson Group/Birches Habitat • USGS Captain Jeff Blyth • Caroline Callender • The Catering Company • Chateau Ste Michelle • Chimpanzee Northwest Sanctuary • Camille S. Clark, LMT, CPC • Columbia Hospitality / John & Deanna Oppenheimer • Dan the Woodworking Man • Delille Cellars • Designer Portraits By Jamison A. Johnson • Richard & Lisa Dykstra • Flatstick Pub • Stacy Garfield • Dr. Michelle Gengler &  Jared Ream • Ann Graves & Donna Guinn • Gregg's Cycles • Phillip Grubauer • Maeve Harris • Hoofbeat Blankets • JM Cellars • Ashley June • Jeff Keller & Karen O'Neal • Kimes Ranch • King Rope • Candi & Kerry Kintzley • Alexis Krapas • Divya Krishnan • Natalie Lerch, CPMM • Tiffany Lindan • Love That Red Winery • Heather Maddox, Windermere • Trish & Seamas Markey • McGinnis Meadows • Kaya Mead • MEOW Cat Rescue • Wendy Meyer • Jan Misner • Meghan Nicholson • Lisa O'Brien • Olson's Tack Shop • Sheila Otter • Karen Parkey • Diann & Dean Patterman  • Revolution Acupuncture LLC • Brandi Reyna • Ross Richmond • Holly Ruiz • SAFE Facilities Team • SAFE Horsemanship Team • SAFE Outreach Team • SAFE Monday AM Chore Team • SAFE Tuesday AM Chore Team • SAFE Wednesday AM Chore Team • SAFE Wednesday PM Chore Team • SAFE Thursday AM Chore Team • SAFE Thursday AM Chore Team • SAFE Saturday AM Chore Team • SAFE Saturday PM Chore Team • Laura Stachel • Seattle Mounted Patrol • The Simpson Group • Sinegal Estate • Skamania Lodge • Snohomish County Sheriff • Soul Dog Creative  • Swiftwater Cellars • Doug Taylor & Bob Ferguson • Kit Topaz • Greg & Renee Wass • Western Leathercraft LLC • Western Sky Horsemanship, LLC • Linda White • Woodinville Whiskey